A pioneering project at the U.Porto aims to promote the community's mental health and well-being through contact and reconnection with nature.
The Instituto de Ciências Biomédicas Abel Salazar (ICBAS), in partnership with the 'Go Wild', recently launched the 'Nature Baths', a pioneering project at the University of Porto, which aims to promote mental health and well-being through the contact and reconnection with nature.
To test this new concept, ICBAS challenged a group of workers and students to disconnect from their concerns and tasks for 90 minutes, to let themselves be guided in a reconnection with Nature. The day was inviting and expectations were high, despite some skepticism.
There were 90 minutes of presence and active involvement with neighboring gardens of the Crystal Palace in an attempt to return tranquility and reduce the levels of stress and mental fatigue of the academic community of the Institute.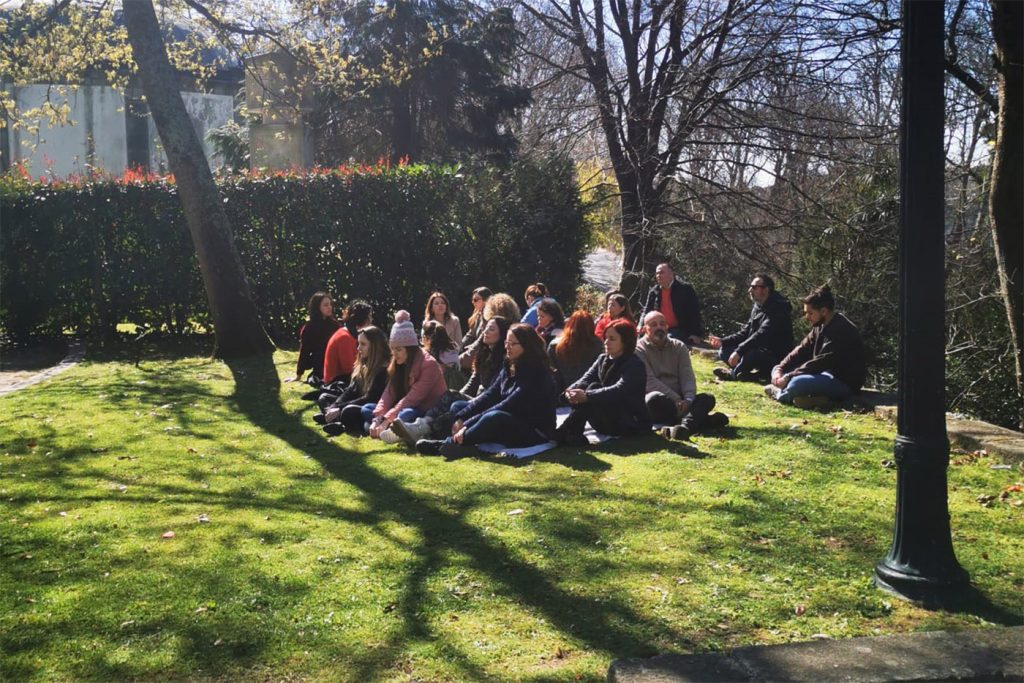 How it all began…
The pandemic drove the Go Wild project, at a time when Nadja Imhof, one of the founders, felt very disconnected from nature: "I did some research and realized that nature baths were a very common practice in other countries and with a scientific basis solid, so I decided to start the six-month online training to become a certified guide".
After completing the training, Nadja and Vanessa, a psychologist and partner in this project, began by defining a strategy that involved finding places in the city conducive to this practice and finding the target audience.
"Students, who during the pandemic were very isolated and suffering from anxiety, seemed to us to be the ideal target , so we started looking for ways to reach them and that's how we came across ICBAS. Furthermore, we knew that for this to work, we had to look for places close to the city, or in the city itself, which would therefore motivate people to participate", explains Nadja Imhof.
Today, this is a more robust project that has been growing "albeit slowly. After all, this is a new practice in Portugal and people are not very comfortable with this proximity", emphasizes the founder of the project.
'Baths of Nature' wellness promoters
But shyness, shame or resistance aside, the 'Nature Baths' have gathered an ever-growing community of followers, thanks to the multiple physical and mental benefits they represent.
"The benefits are global, mental and physical. Physical because even without running we are moving our body. Mental because it has been proven that this contact with nature reduces anxiety and all feelings related to depression or stress. What helps us sleep better, increases our ability to concentrate and creativity", clarifies Nadja Imhof.
Also for João Silva, student at the Faculty of Sciences of the U.Porto (FCUP) and collaborator of researcher Karine Silva, from the Department of Behavioral Sciences at ICBAS, becoming a guide for the Nature Baths has been an "incredible" experience.
"Realizing that the connection with nature has so many benefits, with such solid scientific bases, was very important for my work. At this moment I would like this project to reach more people, and above all to see these people bathing in nature by themselves. Give them the recipe so they can make it a routine", says the student.
"Test" passed successfully
The truth is that, after an hour and a half spent in deep contact with nature, the opinions were unanimous: "this activity was an excellent initiative, which without a doubt makes us feel better, calmer, more serene, better prepared and motivated to the work."
For the participants, this is "an excellent way to gain energy, to feel better about ourselves", as highlighted by Nuno Ferreira, from the ICBAS IT Department.
"It offered us new tools to reduce anxiety", points out Sara Pereira, from the International Relations and Mobility Office, about an experience that promises to be repeated.
A commitment shared by Zélia Lopes, from the Postgraduate and Continuing Education Unit "I loved it, I feel very calm and decided that I'm going to start coming to the Crystal Palace more often to connect with nature. Undoubtedly, this action was the driving force behind this decision".
Also for the student of the Integrated Master in Medicine, Maria João Estêvão, this is an activity that she will recommend to her colleagues: "It was a different morning and it was very positive to come here and slow down a little. I had never looked at the Palace in this way. I totally recommend it, I think this is a very important strategy to reduce anxiety."
Source: Notícias UP